Directory+ 4.0.10 – Multipurpose WordPress Theme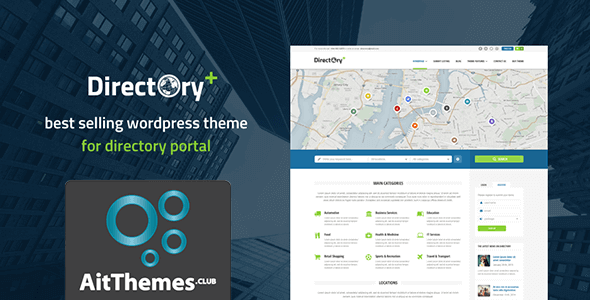 Version:
4.0.10
Last update:
Developer:
AIT
Tags:
AIT
Categories:
WordPress Themes
Archive contains:

Theme

Documentation

Plugins

Demo

PSD
Each theme includes specially developed features and elements for it's specific segment. Apart from that you will get all amazing standard and business features you can use anywhere on your website.
Built in Multilingual Support
First multilingual WordPress themes with integrated multilingual system and language translations. You can have your website in any language or create a multilingual website in multiple languages. Theme is ready to use right out of the box. Everything is already translated. Just type in content in your language and it's done.
Fully Customizable Directory Theme
We built this theme with the most desired features in mind and pushed it even further with a new much more customizable system. This will constantly improve with more and more features in the future. Now, you can set up any online directory portal as you wish, without the limit.
Responsive Design
WordPress Theme is 100% responsive and works great on all devices. Customers can shop online using their mobile phones, tablets, laptop and desktop. Whole website will adapt to screen size automatically. Theme was tested on many different modern and also older phones and tablets such as iPhone, iPad, Android and Windows devices.
Elements Which Make The Directory Site
Website elements are designed to make your work as simple and fast as possible. You can pre-define settings in Default layout section and use them anywhere. Information you set in Custom Types can be easily re-used on any page, no need to type it again and again.
Search & Results
You can search by keyword, category and location. Additionally you can turn on geolocation and the radius of searching around your position. We support 2 units, kilometers and miles. There are 3 types of search bar.Classic, fields formed as a sentence or Category, Location and Geolocation formated as buttons. Result shows the matching items in the list with filtering options.
Categories & Locations
Items are categorized into categories and locations. You can have as many categories as you wish as well as their subcategories. You can set them any icon, map icon and description. Locations work the same way. In administration you can set a count of columns. Category detail can have 3 types of header: map, image or none.
Items Element & Detail
With this element you can show items on any page. They can be showed as a list or grid and in carousel. You can show all of the items or certain category. In item's settings you are able to set title, description, categories, address, contact info, opening hours and custom list of features. In the next version there will be more of custom content.
WooCommerce
Sell your products online using best e-commerce WordPress plugin out there. You can install the WooCommerce plugin for free and create your online store in few moments. Insert your products, upload images and you're done. Everything that you need to create e-commerce website is included in the theme.
Theme Features:
Ability for the users to rate and review listed content. Star rating will be included in the items. Each category will have own rating criteria;
Easy Admin. Plugin provides easier administration for the user. The way to add items and management of their accounts;
Import & Export Plugin. Ability to import and export the content of the site with ease;
Payment Gateways. As an admin you are able to set multiple prices for account registration. This plugin will manage to accept payment through integrated gateways so you don't have to deal with it on your own;
Migration from Directory and Business Finder. Migration plugin for our previous and the most successful directory themes;
Get Directions. This plugin will add the ability to search more intelligent, where you can set A and B locations and the map will show you desired content with navigation info;
Claiming Listing. If the admin lists business which he doesn't own, the owner can contact him and take control of administration of his presentation on the site;
Events Pro. Let your users create their own events and link it to the profile of their event venue or other business. Events Pro plugin enriches event pages with key information about date, time, place and price of an event. Users can make events recurring and visitors can share with ease.
Read before purchase
Before making a purchase, please read the Terms and Conditions on this page: https://wpnull.org/en/terms/

All digital products are purchased without the possibility of free updates. Download links will be available for 24 hours after the purchase.

If you have any questions, please first read the FAQ on this page: https://wpnull.org/en/faq/

If you haven't found the answer to your question, please contact us by e-mail wpnull@yandex.ru, Skype wp.null, online chat or feedback form.

You can download the product after the purchase by a direct link on this page.