Themify Builder 4.6.6 – Drag & Drop Page Builder for WordPress + Addons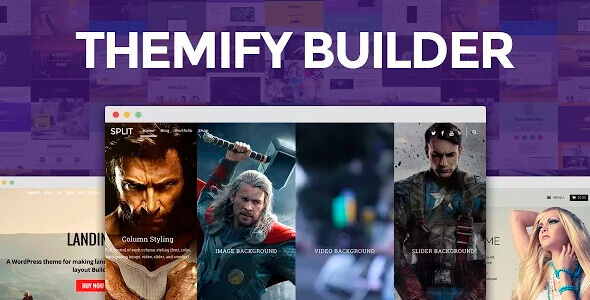 The Themify Builder is the most powerful and easy to use page designer and builder for WordPress. Design any layout that you can imagine, bring it to life using the drag & drop interface, and watch it come together right in front of your eyes with live preview. Select, drag, and drop, and you have built beautiful pages - without any coding!
It have over 40+ professional designs are included in the Builder (and our list of layouts is growing!). Simply import a layout, replace the text and images, and you're done! You can get an awesome landing page done in minutes. Here is a list of main advantages:
Drag & drop. Design and build by dragging elements with a click of your mouse. It's that easy!
Preview. Instantly see changes you've made to your design with our intuitive Live Preview feature.
Undo/redo. Not sure if you like the changes? No problem, just undo it. You can always redo it!
Copy/paste. Copy/paste modules and rows from one page to another without messing with the whole layout.
Import/export. Import a specific module or row from one computer to another (eg. email data to clients)
Duplicate. Duplicate helps you to speed up prototyping by quickly cloning existing modules and rows.
Rows & columns. Arrange practically any layout grids with the Builder column options. Rows and columns can be nested in sub rows or columns. Every possible combination is responsive!
Layout parts. The Layout Parts are re-usable layout parts that can be included into Builder. When a Layout Part is updated, any page using that Layout Part will also be updated simultaneously.
Animation. Spice up your design with animation effects that trigger when the elements are present in the viewing area. The Themify Builder includes 60+ animation effects out of the box!
Custom styling. Take full control of your page appearance. Style everything from color, background, font, spacing, border, and even the overall theme color!
Responsive. Both front-end and back-end of your website is responsive - beautifully displayed on desktop, tablet, and mobile devices.
Cache system. The Builder comes with its own cache system that reduces server resources and can process pages faster.
SEO friendly. All content made inside of the Builder is 100% SEO friendly and is completely indexable by search engines.
Modular based. Builder is modular in design and is optimized for better performance. Resources and files are loaded only when in use.
Multi-site support. Builder works on single WordPress sites, or multi-side networks. You can use Builder to power as many websites as you want!
Translate-able. The Builder core code is fully localized using WordPress standards, letting you translate into any language.
Builder A/B Image
Builder Audio
Builder Bar Chart
Builder BG Video Slider
Builder Button
Builder Contact
Builder Content Restriction
Builder Countdown
Builder Counter
Builder FitText
Builder Image Pro
Builder Infinite Background
Builder Infinite Posts
Builder Maps Pro
Builder Pointers
Builder Pricing Table
Builder Progress Bar
Builder Slider Pro
Builder Tiles
Builder Timeline
Builder Typewriter
Builder WooCommerce
Read before purchase
Before making a purchase, please read the Terms and Conditions on this page: https://wpnull.org/en/terms/

All digital products are purchased without the possibility of free updates. Download links will be available for 24 hours after the purchase.

If you have any questions, please first read the FAQ on this page: https://wpnull.org/en/faq/

If you haven't found the answer to your question, please contact us by e-mail wpnull@yandex.ru, Skype wp.null, online chat or feedback form.

You can download the product after the purchase by a direct link on this page.