WP Media Folder 5.2.1 – Media manager with folders + Cloud addon 3.4.3 + Gallery addon 2.1.8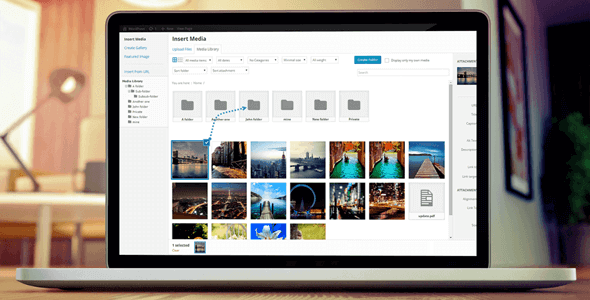 WP Media Folder – is a media manager with folders.  This WordPress plugin will help you to stop searching for an image through thousands of media, and instead just navigate like you do on your desktop file browser. You'll be able to upload and drag'n drop media into galleries, folders and sub-folders. Plugin feature list:
Drag'n Drop. Full drag'n drop interface: Drag'n drop to upload & move multiple media and folders. Everything is saved on the fly using AJAX.
Editor compatible. Managing folders and media is possible with all plugins and editors that use the WordPress default media manager.
AJAX navigation. All folder navigation is AJAX-based from folders to the folder tree accordion.
Ultra light. The plugin is a natural improvement over the media manager, with a small size and zero frontend impact.
Gallery layouts. 4 gallery layouts to choose from in the media manager. Gallery features can be disabled to keep theme compatibility.
Filter your media. The plugin adds some additional custom filtering options, such as based on file types, categories, size ranges, weight ranges.
Sort folders & images. You can sort image and folder by date, names, title, size and type and it's saved using cookies (by user).
Better file insertion. File insertion, for example with PDFs, can be designed to have a real download button, not just a link.
Start quickly. After installing the plugin you have the opportunity to import all post categories as media folders.
SEO friendly. Automatic media renaming with pattern, on upload, is available. Give to your media the name they deserve to be indexed.
Multi-lingual ready. The plugin uses WordPress standard language files and is totally translation ready. It also supports all major multi-language plugins.
Import images and folders. WP Media Folder got an inbuilt import tool. It's very flexible, can crawl your server, select and import files and folder structure.
WordPress framework. WP Media Folder is based on WordPress custom taxonomy for files and folders. It has the double advantage of being light and compatible.
Folder cover. Add a custom cover per folder, helping to identify your media visually without having to go inside the folder.
Media views. Display your media with 3 views: list (compact), small thumbnails, big thumbnails.
User media access. Optionally limit access to your folders by creating a root folder per user automatically.
Flexible search engine. Search your media across all folders or only in a specific folder, it's compatible with our filtering system.
Read before purchase
Before making a purchase, please read the Terms and Conditions on this page: https://wpnull.org/en/terms/

All digital products are purchased without the possibility of free updates. Download links will be available for 24 hours after the purchase.

If you have any questions, please first read the FAQ on this page: https://wpnull.org/en/faq/

If you haven't found the answer to your question, please contact us by e-mail [email protected], Skype wp.null, online chat or feedback form.

You can download the product after the purchase by a direct link on this page.