SEO Cleaner 1.4.4 – WordPress Plugin for Site Clean Up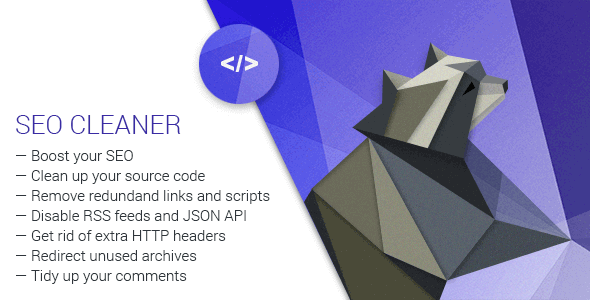 SEO Cleaner — WordPress Plugin from Codecanyon for site clean up and improving SEO.
Developers from teamdev-ltd like to give their guests a warm welcome and present a clean, shining home. So when Google comes to visit your website, you can get all the trash out of the way. Each redundant part of your website can pull your search engine score down and potentially harm your site's visibility in search engines. Developers want to make sure it doesn't.
SEO Cleaner will get rid of all the automatic WordPress clutter for you in a few clicks. You will get better SEO ranking, clean markup, no content duplication, freedom from useless features
Here's what you can effortlessly remove with SEO Cleaner:
Unused meta tags.
Links, scripts and styles in your head section.
Redundant server response HTTP headers.
Remove WordPress Generator Version.
Remove WLW Manifest Link.
Remove RSD Link (EditURI Link).
Remove Shortlink.
Remove Prev/Next Links.
Remove Hardcoded Styles for Recent Comments.
Remove Emoji Styles and Scripts.
Remove DNS Prefetch Link.
Clean up your head from the feed links and redirect them to the home page.
Remove the website field.
Remove the notice text before the comment form.
Remove the hyperlinks from the comment author's name.
Disable auto linking.
Remove Shortlink from HTTP Headers.
Remove X-Pingback from HTTP Headers.
Remove X-Powered-By from HTTP Headers.
Remove WP API Links and Scripts.
Remove WP API Link from HTTP Headers.
Totally Disable WP API Feature.
With SEO Cleaner, you can avoid content duplication and indexing of attachment pages and unused archives.
You can easily redirect the archives to the home page and the attachments to the parent post pages.
Read before purchase
Before making a purchase, please read the Terms and Conditions on this page: https://wpnull.org/en/terms/

All digital products are purchased without the possibility of free updates. Download links will be available for 24 hours after the purchase.

If you have any questions, please first read the FAQ on this page: https://wpnull.org/en/faq/

If you haven't found the answer to your question, please contact us by e-mail wpnull@yandex.ru, Skype wp.null, online chat or feedback form.

You can download the product after the purchase by a direct link on this page.