Booked 2.2.6 – Appointment Booking for WordPress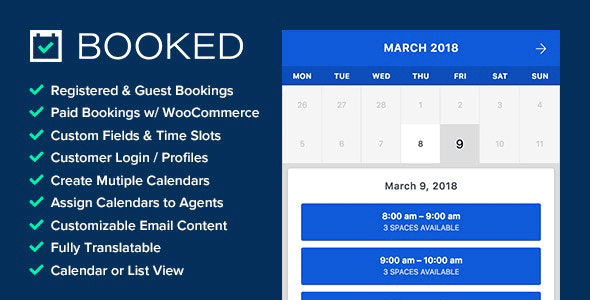 Booked is a WordPress plugin from Codecanyon, developed by BoxyStudio oriented on making reservations. Buying Booked you will get some important plugins:
Booked Payments with WooCommerce — use Booked with WooCommerce to allow your visitors to purchase their appointments and checkout using WooCommerce.
Booked Front-End Agents — your Booking Agents will have a new profile screen on the front-end that allows them to manage their incoming appointment requests.
Booked Calendar Feeds — display your appointments on Apple Calendar, Outlook, etc. with an iCal feed directly from your site. (not a two-way sync)
Here is a list of main advantages:
Appointment calendar shortcode and widget.
Custom time slots for vacation/closed dates and more.
Custom Fields for collecting custom information for every appointment.
A powerful backend interface to manage appointments.
Color pickers to change your calendar's colors.
Appointment buffering to prevent appointments from getting booked too close to current date and/or time.
Customers can manage their own appointments.
Customers can manage their account information.
"Add to Google Calendar" buttons for your customers.
Customizable emails sent to you and your customers.
Front-end and admin are both fully responsive.
Fully translatable.
Color customizations.
Other important features:
Multiple calendars & Booking agents. Add as many calendars as you need, each with their own time slots and custom fields. Then, each calendar can be assigned to a "booking agent" user so they can manage their calendars.
Guest Booking. You can optionally allow guests to book appointments without the need for registration. They just need to provide a name and email address to book an appointment.
Custom time slots. Use the new custom time slots to add vacation days, days that are different than the norm, or simply leave out default time slots and add a completely custom calendar using handy builder.
Custom fields. Create your own custom appointment fields to get any information you need to collect for each appointment. Create text fields, paragraph fields, drop downs, checkboxes and radio buttons.
A powerful appointment management calendar. Just log in and manage your appointments from the calendar. Pending appointments will show up in a list for easy approval.
Read before purchase
Before making a purchase, please read the Terms and Conditions on this page: https://wpnull.org/en/terms/

All digital products are purchased without the possibility of free updates. Download links will be available for 24 hours after the purchase.

If you have any questions, please first read the FAQ on this page: https://wpnull.org/en/faq/

If you haven't found the answer to your question, please contact us by e-mail wpnull@yandex.ru, Skype wp.null, online chat or feedback form.

You can download the product after the purchase by a direct link on this page.