Toolset Types 3.4.9 + Blocks 1.5.1 – The Easiest Way to add Custom Types to WordPress + All addons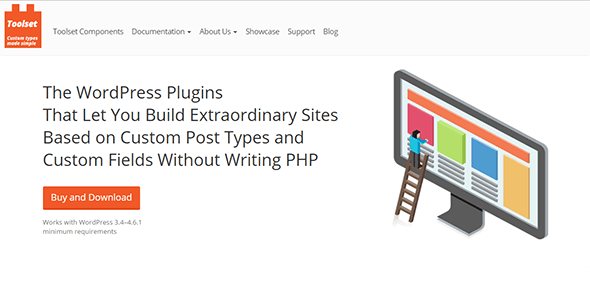 Official Version
The official version from the developers. Licensed under the GNU GPL for an unlimited number of sites. No license restrictions.
Technical Support
Professional help in solving any technical problems. Support is included in the price. Read the Support Policy.
Guarantees and Safety
100% working and safe product. Completely risk-free. 30-day money-back guarantee. Read our Refund Policy.
Product Details
The WordPress Plugins That Let You Build Extraordinary Sites Based on Custom Post Types and Custom Fields Without Writing PHP.
Toolset lets you develop truly custom sites, with only basic HTML skills and no PHP. You will add custom post types, custom fields and custom taxonomy to the admin and display them in unique ways on the front-end.
With Toolset, you can:
Build Your Own Custom Searches
Create Custom WooCommerce Sites
Create Custom Directory, Membership and Classifieds Sites
Build Brochure Sites with Custom Templates and List
Toolset components
Toolset Types – Custom post types, taxonomies and fields
Types plugin sets up custom post types, custom taxonomies and custom fields. You can add fields to any content type and to users. With Types, you can also connect between different content types and work with relational databases.
Toolset Views – Front-end content display
Views displays content, on the site's front-end, any way you choose. With Views, you can display lists of content, design templates for content and design archive pages.
You do all the design work, in Views, using simple HTML and by choosing fields from a menu.
Views lets you create powerful custom searches for any content type. Custom searches allow visitors to find content according to fields, taxonomy and relationship.
Toolset CRED – Front-end content creation forms
With CRED, you can build front-end forms for creating and editing content and users. CRED forms include all the fields that belongs to the content, displayed with your HTML styling. CRED forms validate inputs and send email notifications when submitting forms.
Using CRED forms, you can create sites for classifieds, directories, membership and anything that requires front-end content submission.
Toolset Layouts – Drag-and-drop Bootstrap design for page layouts
Layouts plugin lets you design responsive layouts for entire pages, from the header, down to the footer. With Layouts, you get all the power and design options that come with Bootstrap, without having to deal with its complexity. You will be able to build advanced layouts, for entire sites, using a convenient drag-and-drop editor.
Toolset Access – Access control and roles management
Access lets you add custom roles and control their privileges. You can control what actions different roles and users can do on content and what WordPress admin screens users can access.
Toolset Maps – Display anything as markers on Google Maps
Toolset Maps lets you display anything on Google Maps. You can use it for simple things, like a single address in a 'contact us' page or for complex things like displaying search results on a map.
With Toolset Maps, you can add 'address' fields to any content type and to users. You can display any content as markers on Google Maps.
Toolset Starter Theme – A minimalistic theme, optimized for Toolset-based sites
Toolset plugins work with any WordPress theme. For your convenience, Toolset also comes with our own Bootstrap theme, which is a great starting point for Toolset-based sites. Toolset Starter is the most minimalistic theme you'll find. It doesn't include any widget zones and doesn't even display post titles. It lets you set all these up using Toolset plugins, exactly how you want them. Often, it's easier to add things with Toolset plugins than to remove them from the theme.
Try Toolset and See How You Like It!
Toolset components
Toolset Types
Toolset Views
Toolset Layouts
Toolset CRED
Toolset Access
Toolset Module Manager
Toolset Framework Installer
Integration with plugins and services
Toolset Maps
Toolset WooCommerce Views
Toolset CRED Commerce
Utilities
Toolset Layouts Migration
Toolset Advanced Export
Toolset Themes
Toolset Starter
Toolset Starter Child
Why choose us? How is WPNULL different from other sites?
How to download Toolset Types 3.4.9 + Blocks 1.5.1 – The Easiest Way to add Custom Types to WordPress + All addons?
In order to download Toolset Types 3.4.9 + Blocks 1.5.1 – The Easiest Way to add Custom Types to WordPress + All addons you need to register on the website and top up your points balance. Before making a purchase, please read our terms and conditions on this page: https://wpnull.org/en/terms.
After registering and refilling your points balance you need to go to the product page and click Download for x points and Download button one by one. After that the download will start automatically via a direct link. The download link will be available within 24 hours after purchase.
Please note, our site has a point system and we don't have any hidden or recurring fees, so you are purchasing the current version of the digital product without the option of a free update. If you need a product updates in the future, you can always download them using your point balance.
If you need help, please read the answers to popular questions on this page first: https://wpnull.org/faq. To get technical support or any other help on the product you can create a support ticket on the site: in the main menu Support - Submit Ticket.
Discussions and questions