Restrict Content Pro 3.3.8 – A simple, yet powerful membership solution for WordPress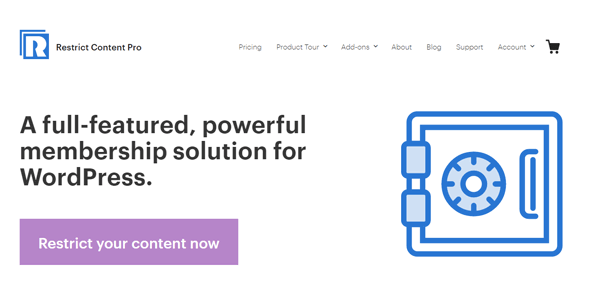 Restrict Content Pro is a WordPress plugin, created by Pippin Williamson that strives to be the premiere membership platform for WordPress. Lock away your exclusive content. Give access to valued members.
Below you can see just some of the features that make thousands of websites entrust their business with Restrict Content Pro.
Discount Codes. Create an unlimited number of discount codes and offer percentage or flat rate based discounts.
Built-in Integrations. Accept credit cards with Stripe, Braintree, 2Checkout, or PayPal Website Payments Pro. Restrict Content Pro also supports PayPal Standard and Express, as well as multiple payment options at the same time.
Reports. Elegant and easy-to-use reports to show you exactly how well your membership site is performing. Easily see the current month's performance, or any other time period.
Data Export. Generate a CSV of all active members of any particular subscription level, or a CSV of every member in the system. You can also generate a CSV of every payment that has been made.
Extensive Help. Contextual help inside the WordPress admin provides you relevant information at your finger tips.
Live Demonstration. To help provide a better idea of what Restrict Content Pro looks like for subscribers, visit the live demonstration site and test the registration process yourself.
Members Management. Easily view all active, pending, expired, cancelled, and free users.
Simple Setup. Restrict Content Pro makes it extremely easy to deliver premium content to your subscribers.
Member Emails. Send welcome emails to new members, email payment receipts, and remind members before their account expires automatically.
Member Approval. Moderate member accounts to control who gets access after registration.
Customer Dashboard. Let your members easily view and manage their account details.
Subscription Levels. Create an unlimited number of subscription packages. You can easily create free, trial, and premium subscriptions.
Prorated Upgrades and Downgrades. Customers can move between subscription levels and only pay the difference.
WooCommerce Integration. Easily control who can view and/or purchase products in WooCommerce, the most popular eCommerce plugin for WordPress.
Read before purchase
Before making a purchase, please read the Terms and Conditions on this page: https://wpnull.org/en/terms/

All digital products are purchased without the possibility of free updates. Download links will be available for 24 hours after the purchase.

If you have any questions, please first read the FAQ on this page: https://wpnull.org/en/faq/

If you haven't found the answer to your question, please contact us by e-mail wpnull@yandex.ru, Skype wp.null, online chat or feedback form.

You can download the product after the purchase by a direct link on this page.