Meta Slider 3.15.3 + Pro 2.16.0 – Responsive WordPress Slider Plugin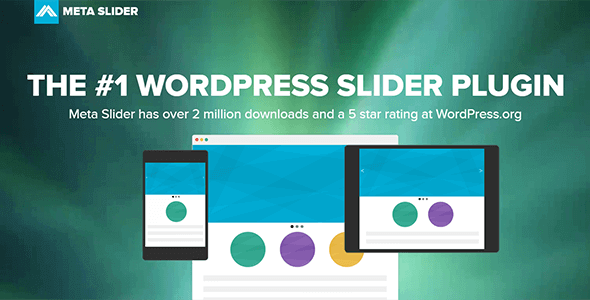 Meta slider is a WordPress plugin from Matcha Labs developers that will help you to create best sliders in the Internet. It gives you the power to create beautiful slideshows on your WordPress site, through the most simple and intuitive plugin interface of any WordPress slider. Show off your photographs and videos, latest work, or even the products in your online store. Meta Slider's inbuilt SEO features ensure that people will have no trouble finding your site and the slideshows that you create! Create impressive slideshows for your clients and feel confident that when they take over they will easily be able to maintain it. Meta Slider gives access to much of its functionality through WordPress filters and actions, so you can customise Meta Slider just the way you want. For something as simple to use and fast as Meta Slider, it has a huge number of powerful features:
Thumbnail navigation. Give your slideshows a gallery feel with Thumbnail Navigation.
Animated layer slides. Create CSS3 animated HTML Layer slides using the built in Drag & Drop WYSIWYG editor. Watch the Demo Video.
4 sliders in 1. Choose from Flex Slider, Responsive Slides, Nivo Slider & Coin Slider!
Post feed slides. Post Feed slides automatically show your latest blog posts, events or WooCommerce products in your slideshow. Check out the demo!
Intelligent image cropping. Unique Smart Crop functionality ensures your slides are perfectly resized. No fuss.
Developer friendly. Meta Slider exposes its functionality through WordPress filters and actions, so you can customize Meta Slider just the way you want.
Live theme editor. Create unlimited themes and preview them on-the-fly. Watch the Demo Video
Html overlay slides. Create completely customised HTML Slides using the inline editor. We've even built in over 50 awesome CSS3 transitions!
Video slides. Easily include responsive high definition YouTube & Vimeo videos in your slideshows.
Integrates with other plugins. Meta Slider plays nicely with other popular WordPress plugins including WooCommerce, the Events Calendar, and WPML.
Seamless WordPress integration. Meta Slider is fully integrated with the new style WordPress 3.5 Media Manager.
Read before purchase
Before making a purchase, please read the Terms and Conditions on this page: https://wpnull.org/en/terms/

All digital products are purchased without the possibility of free updates. Download links will be available for 24 hours after the purchase.

If you have any questions, please first read the FAQ on this page: https://wpnull.org/en/faq/

If you haven't found the answer to your question, please contact us by e-mail wpnull@yandex.ru, Skype wp.null, online chat or feedback form.

You can download the product after the purchase by a direct link on this page.