SLAM 3.4.0 – Music Band, Musician and Dj WordPress Theme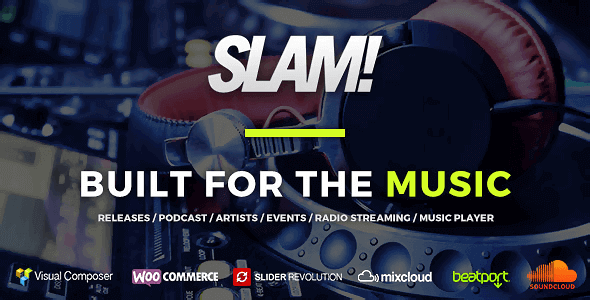 Why choose us?
Music WordPress Theme for music producers, djs and label owners. The perfect solution for any Musician and Music based business. 24 Color Skins + Visual Page Builder + Color Pickers. Compatible up to WordPress 4.2.
Theme developed for your needs: let the people hear your music! In this music wordpress theme there are different specific post types dedicated to the music: releases, where you can put unlimited tracks with mp3 preview, artists, directly linked to releases, and podcasts, with a super easy way to add podcasts from Mixcloud and Soundcloud.
Main features:
Powerful audio player with playlist;
EXCLUSIVE: Continuous play across pages and between playlist;
Custom post types: Release, Artist, Podcast with AMAZING FEATURES;
Super easy to use and populate! (No skills needed);
EXCLUSIVE: Mixcloud podcasts auto importer!;
Exclusive templates for any post type;
Filterable animated podcasts archive;
Auto embedding player for Mixcloud, Soundcloud and Youtube;
Social Networks ready to increase your popularity;
Powerful setup page with QantumPro Admin Panel;
24 Dark and Light Skins ready for any brand colour scheme;
4 Color Pickers to fast-customization;
Custom Background Image uploader;
Jquery Fulscreen Background option;
Logo uploader up to 940 px width;
Custom CSS input: customize it as fast as the light!;
Custom FAVICON uploader;
Radio Station Support (mp3 Streaming – Shoutcast – Wavestreaming);
Secured against Wordpress XSS vulnerability.
Customizable home page:
4 Customizable Modules;
Amazing new releases carousel;
Totally customizable;
3 sidebars module to widgetize your home.
Cutting Edge design:
Based on Twitter Bootstrap framework (HTML5 + CSS3);
Totally Responsive and well-looking on any device;
Responsive slider with auto switch from NIVO to Bootstrap;
Cross Browser from IE7 to Chrome and mobile browsers;
5 Custom post-type templates to highlight any detail;
Amazing Animations made with jquery and CSS3;
Auto lightbox images zoom;
Widgetizable footer.
Font Face integration:
Stop limiting your font choice between a few bounce of fonts!;
Create free your font-face and just upload it to activate!;
Choose between over 800 fonts!
Social Networks Ready:
ULTRA CUSTOMIZABLE Facebook Fanbox Widget;
ULTRA CUSTOMIZABLE Twitter Feeds Widget;
Easily add Like, Tweet and +1 Buttons;
Optional automatic embedding of Facebook SDK;
Auto embedding of Google+ script;
Over 24 Social Icons in header and Artist's pages.
Stuff for nerds:
Tidy and well commented source code, easy to scale and customize;
WP admin bar visibility switch;
Google Analytics ready;
Developed with SEO in mind.
Before making a purchase, please read the Terms and Conditions on this page: https://wpnull.org/en/terms/

All digital products are purchased without the possibility of free updates. Download links will be available for 24 hours after the purchase.

If you have any questions, please first read the FAQ on this page: https://wpnull.org/en/faq/

If you haven't found the answer to your question, please contact us by e-mail wpnull@yandex.ru, Skype wp.null, online chat or feedback form.

Please note that any digital products presented on the website do not contain malicious code, viruses or advertising. You buy the original files from the developers. We do not sell any products downloaded from other sites.

You can download the product after the purchase by a direct link on this page.