EasyReservations Premium 3.5.1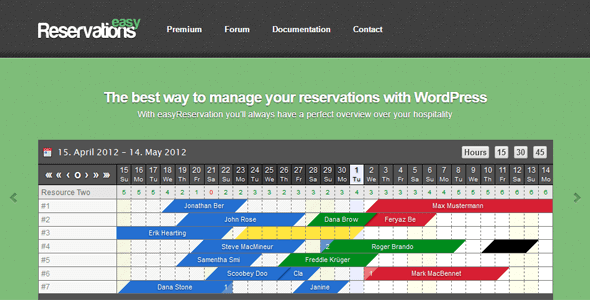 EasyReservations is the perfect WordPress plugin for receiving, managing and handling bookings easily. It's designed to be used for any reservable products like hotels, car rentals, events, B&Bs, appointments or conferences. It's very flexible and intuitive and has a more as huge amount of functions and possibilities. Of course it's completely translatable and comes with english, german, italian, spanish, french, turkish and russian. It can be used for any reservation type and has a wide range of functions and endless possibilities – you'll be surprised. It will increase the productivity of your business by combining the client and administration reservation tasks all in one tool and the best part is that it's free. With flexible availability calendars, forms, and a clear reservation overview calendar and smart table you will always have the perfect schedule of your bookings. It`s main features:
Statistics (Shows usage of resources, a graph of your reservations and calculates your income and averages);
Interactive and flexible Reservation Overview;
Availability Calendar as Shortcode and Widget;
Adjustable Reservation Table;
Unlimited customizable Forms (define the way to acquire reservations yourself by extensive and geared functions);
Guests can edit their bookings afterwards;
Add, Edit, Approve, reject and trash reservations;
Group, Filter and Search Reservations;
Property Management;
Hourly, Daily and Weekly billing;
Live price calculation and errors;
Flexible Price filters, discounts and availability.
If you want more functions, you can buy easyReservations Premium, that goes with twelve modules with over thirty new, exclusive and extended functions for your website.
With the payment gateways, invoices and Excel export it'll allow you to manage not only your reservations, but also your income and complete accounting in one system. For your guests your website will be much more interactive. They can search for available resources, edit their reservations afterwards and even communicate with the administrators with a chat-like function. The HTML emails and its three very beautiful templates will increase the appeal of your business. To reduce your work and increase the working flow you can let the reservations approve automatically after the user submits their information or payment. For international websites, the forms and emails can have multilingual content. The calendar can show multiple months by a flexible grid. New styles improve nearly every part of the plugin visually.
Read before purchase
Before making a purchase, please read the Terms and Conditions on this page: https://wpnull.org/en/terms/

All digital products are purchased without the possibility of free updates. Download links will be available for 24 hours after the purchase.

If you have any questions, please first read the FAQ on this page: https://wpnull.org/en/faq/

If you haven't found the answer to your question, please contact us by e-mail wpnull@yandex.ru, Skype wp.null, online chat or feedback form.

You can download the product after the purchase by a direct link on this page.