WooCommerce Orders and Products Export 3.11.1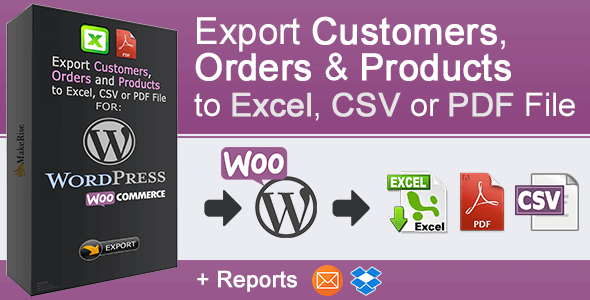 Why choose us?
WooCommerce Orders and Products Export is a WordPress plugin from Codecanyon that allows to get all data about orders or products from your shop in one click. Also you can setup and sorted fields which you need, create template and get daily email report.
This plugin permits you to export Orders, Products and Customers from WooCommerce to Excel, CSV or PDF file. It also provides create and schedule a reports which will send by email or upload to your Dropbox account. WooCommerce Orders and Products Export also provides filter of data by different parameters (Filter of products by status, date, stock and product's categories; Filter of orders by status, date, time, customers and product's categories; Filter of customers by role and date).
User friendly interface allows you to export data with the least effort. In addition, the plugin looks great on all devices without custom coding needed for each device or screen size.
This plugin gives you a great selection of features, here are only main of them:
Quick installation and setup.
Export all data about products, orders and customers.
You can get all products and variations of products in one file.
Use the flexible filter for data.
Ability to get each product from order in separate row.
Easy to change the order of columns.
Allows you to modify the title of columns.
Export data to Excel, CSV and PDF file.
Ability to set the separator for CSV file.
Ability to choose the page size and orientation for PDF file.
Possibility to save profile (template).
Easily Download Profiles in 1 click.
Send report by email or upload to your Dropbox account.
You can setup a daily or weekly, monthly email report.
Supported plugins
Advanced Custom Fields.
Fancy Products Designer.
WooCommerce TM Extra Product Options.
WooCommerce Checkout Field Manager.
WooCommerce Checkout Add-Ons.
WooCommerce Product Add-ons.
WooCommerce Delivery Slots.
WooCommerce Precious Metals.
WooCommerce Sequential Order Numbers.
WooCommerce Tab Manager.
WooCommerce Variation Details on Page Product.
Before making a purchase, please read the Terms and Conditions on this page: https://wpnull.org/en/terms/

All digital products are purchased without the possibility of free updates. Download links will be available for 24 hours after the purchase.

If you have any questions, please first read the FAQ on this page: https://wpnull.org/en/faq/

If you haven't found the answer to your question, please contact us by e-mail wpnull@yandex.ru, Skype wp.null, online chat or feedback form.

Please note that any digital products presented on the website do not contain malicious code, viruses or advertising. You buy the original files from the developers. We do not sell any products downloaded from other sites.

You can download the product after the purchase by a direct link on this page.