UserPro 4.9.33 – User Profiles with Social Login NULLED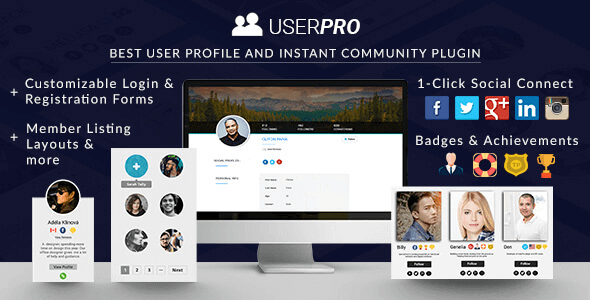 Why choose us?
UserPro offers beautiful front-end user profiles, member directory , login and registration for WordPress, so yes, it is more than just a user profiles plugin.
Create a WordPress Community website with UserPro's awesome features like social connect and integration(1 click auto signup / signin) , viral marketing, user badges, file upload, photo uploads with lightbox support, responsive videos, follow / unfollow users, verified accounts, content restriction (private content), frontend publisher, posts by user, public / private Activity Feed.
That's why UserPro gives you more than frontend profiles and registration system for WordPress, It's simply an all-in-one plugin!
Use any key for plugin activation!
From WPNULL you can also download addons for UserPro:
UserPro Dashboard 3.6.1
UserPro Mailster Addon 1.6
UserPro Media Manager 3.7
UserPro Payment Addon 3.1.1
UserPro Private Messages 4.9
UserPro Social Wall Addon 4.1
UserPro Tags Add-on 1.2
UserPro User Profile Completeness Add-on
UserPro User Rating Review Add-on 3.8.1
UserPro VK.com Social Connect 1.5
UserPro WooCommerce Integration 1.7
UserPro WordPress User Bookmarks 3.8
UserPro WPLMS 1.0
Before making a purchase, please read the Terms and Conditions on this page: https://wpnull.org/en/terms/

All digital products are purchased without the possibility of free updates. Download links will be available for 24 hours after the purchase.

If you have any questions, please first read the FAQ on this page: https://wpnull.org/en/faq/

If you haven't found the answer to your question, please contact us by e-mail wpnull@yandex.ru, Skype wp.null, online chat or feedback form.

Please note that any digital products presented on the website do not contain malicious code, viruses or advertising. You buy the original files from the developers. We do not sell any products downloaded from other sites.

You can download the product after the purchase by a direct link on this page.