Ultimate Tweaker for WordPress 2.4.5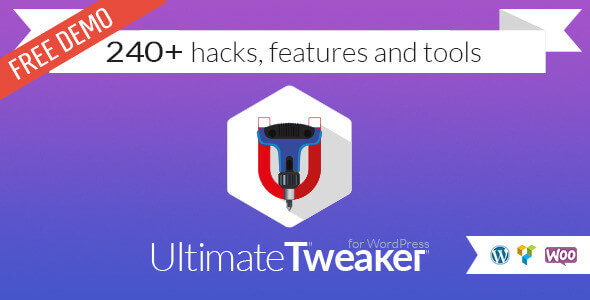 Ultimate Tweaker is a WordPress plugin from Codecanyon. that includes two Tweakes: Only Tweaker, that have 200+ tweaks out of the box without programming in 42 categories and AdminMenu Tweaker, that will help you to organize your menu, hide with firewall, create new items, customize icon and color, change style of separators. It was developed by Amino-Studio and got too many improvements in the last version. Here is main features of the plugin:
HTML minifier – removes all extra white-spaces and characters, makes relative URLs and removes comments. Your page will be lighter and faster-to-get.
Content protection – you will be able to turn off content menu, turn off selection and turn off image drag & drop.
Drag & Drop – you can move any menu element to the place that you want.
Custom icons – you can upload any image or select from 4000+ ready to use icons and set custom color.
Inheritance – helps you to solve complex situations (for instance, all users can`t see page except editors, but one user can).
Firewall – detects that current page is blocked and denies an access.
Custom pages – create your own menu, define page content or set URL to go to any page.
Requirements:
WordPress versions 4.5+
PHP 5.3+ (supports 7.x); MySQL v.5.6+ or MariaDB v.10+
Control page requires modern browser(Chrome, Safari, Firefox, IE 10+) with enabled JavaScript
Read before purchase
Before making a purchase, please read the Terms and Conditions on this page: https://wpnull.org/en/terms/

All digital products are purchased without the possibility of free updates. Download links will be available for 24 hours after the purchase.

If you have any questions, please first read the FAQ on this page: https://wpnull.org/en/faq/

If you haven't found the answer to your question, please contact us by e-mail wpnull@yandex.ru, Skype wp.null, online chat or feedback form.

You can download the product after the purchase by a direct link on this page.