The Events Calendar Eventbrite Tickets 4.6.0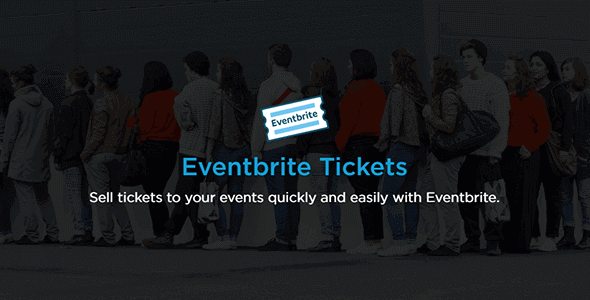 Why choose us?
Eventbrite Tickets add-on is a WordPress plugin created by Modern Tribe using the Eventbrite API. You will need a free Eventbrite account and The Events Calendar plugin to use this add-on. This plugin extends the functionality of The Events Calendar and allows you either pull events from Eventbrite or send events from your WordPress site to Eventbrite.
You've got lots of cool events planned for your calendar, and now you're looking for a way to sell tickets? Developers got you covered with Eventbrite Tickets. This add-on plugin unites the power of The Events Calendar with the ticketing prowess of Eventbrite.com. It empowers you with simple but powerful tools to manage, promote, and sell out your event. With Eventbrite Tickets, you're in control of your event and your tickets. Visitors to your site will see a snazzy tickets form and can click to be redirected to Eventbrite.com to purchase. Please note that Eventbrite.com may collect a percentage of ticket sales. Ticket availability numbers will update as people purchase tickets and show a Sold Out! message if you run out.
In order to import events from Eventbrite you find an event on Eventbrite.com and copy the event ID that is a string of numbers in URL. From there you jump back to your Wordpress dashboard, find The events-import- Eventbrite option and drop that event in Eventbrite Event ID. Note, that event doesn't need to be public event in order for this to work. So, system will import event exactly as it appears on Eventbrite.com. And the tickets you have configured on Eventbrite.com will also be attached to your WordPress event. You can also send event from WordPress to Eventbrite, and down below in editor you'll got you events ticket details placed: register this event with Eventbrite.com; bring up a name for showed options that you can configure to set up your first ticket. You able to set your first ticket here and create rest of them on Eventbrite.com, you only need to configure what type of ticket it is: when it goes on sale, when the ticket sale end; how you charging for and what cost it will have (set price, donation or free) and how many tickets are available. You can add service fee on top of the price or include it in price and choose online or offline payment options (PayPal and Google payments for online; check, cash or invoice for offline). Last thing, you have to decide – will it be a draft or public, and then just hit the Publish button.
Before making a purchase, please read the Terms and Conditions on this page: https://wpnull.org/en/terms/

All digital products are purchased without the possibility of free updates. Download links will be available for 24 hours after the purchase.

If you have any questions, please first read the FAQ on this page: https://wpnull.org/en/faq/

If you haven't found the answer to your question, please contact us by e-mail wpnull@yandex.ru, Skype wp.null, online chat or feedback form.

Please note that any digital products presented on the website do not contain malicious code, viruses or advertising. You buy the original files from the developers. We do not sell any products downloaded from other sites.

You can download the product after the purchase by a direct link on this page.