Smart Security Tools 3.6.1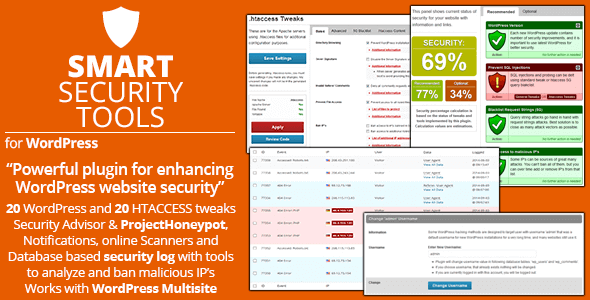 Why choose us?
Smart Security Tools is a powerful WordPress plugin from GDragoN developers for improving security of your website. Plugin contains collection of tweaks and tools for extra security protection along with Security Advisor that can help you determine what needs to be done.
Plugin includes integration of VirusTotal and Sucuri Free Security Scanners (shows malware on the website and blacklisting status on major security related websites). Plugin includes database based Security Log that can log different event types you can use to detemerime problems, potential attacks and exploits, IP's used for access, referers, user agents… You can ban IP's from Security Log.
Plugin offers tips on what you need to improve on your website. Based on the status of tips on this panel, plugin will calculate security percentage. It is important to follow all recommended tips and as much as you need optional tips.
General tweaks are easy to set up, and you can solve many security issues directly with these. Some of these tweaks, if active will also log security events into database. Here is a list of general tweaks:
Add X-Content-Type-Options header.
Add X-Frame-Options header.
Add X-XSS-Protection header.
Add Strict-Transport-Security header.
Remove X-Powered-By header.
Remove XML-RPC Multicall methods.
Remove X-Pingback Header.
Remove XML-RPC Pingback methods.
Remove script and styles versions.
Prevent access to banned IP's.
Prevent SQL injections.
Prevent too long URL's.
Simple registration honeypot.
Remove errors from login screen.
Restrict username length.
Remove username from comments CSS classes.
Remove WordPress version.
Remove RSD link.
Remove WLW manifest link.
Disable XML-RPC.
Security Log adds two database tables to log all sorts of security related events. For each event you will get information about user (or visitor), IP, user agent, referer and other information depending on event that can help you track sources of new security probes or attacks. You can ban IP addresses through the security log panel.
Since version 1.5 of the plugin, new panel is added where you can see aggregated log results for individual IP's with estimated threat level based on number of logged events and events type. This will help you decide if the IP should be banned. Some of the actions logged are potentially malicious and they are marked in the plugin settings. Plugin can send daily and weekly digest emails with overview of logged events and IP's. Also, some events can generate email notifications. Most important notification is malicious alert email sent when number of logged malicious events reaches set number in specified time period (200 events in the past 30 minutes is default).
Before making a purchase, please read the Terms and Conditions on this page: https://wpnull.org/en/terms/

All digital products are purchased without the possibility of free updates. Download links will be available for 24 hours after the purchase.

If you have any questions, please first read the FAQ on this page: https://wpnull.org/en/faq/

If you haven't found the answer to your question, please contact us by e-mail wpnull@yandex.ru, Skype wp.null, online chat or feedback form.

Please note that any digital products presented on the website do not contain malicious code, viruses or advertising. You buy the original files from the developers. We do not sell any products downloaded from other sites.

You can download the product after the purchase by a direct link on this page.