bpchat 2.0.1 – WordPress BuddyPress Users Chat Plugin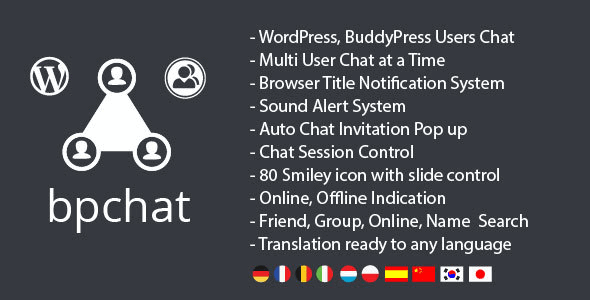 Why choose us?
Bpchat is a buddypress, WordPress plugin for user based chat systems from Codecanyon. If this plugin installed to any user based WordPress blog, forum, community, directory, ecommerce or buddypress social network site then all the logged in users automatically can chat each other instantly. This plugin is also intended to make an easy way to chat like facebook for dating, matrimony, community social network site based on WordPress and buddypress framework. Main features of this plugin:
New Message Title Bar Notification. This notification will show up when new chat message comes to you but you were visiting other web pages in a new tab.
New Message Sound Alert. If your window is minimised or you are in a new tab then sound alert will occure for new chat message.
Multi User Chat at a Time.
New message browser Title bar Notification System.
New message sound alert while on other tab or minimise state of browser.
Auto Chat Invitation Pop up.
Chat Session Control.
80 Smiley icon with slide control.
Online, Offline Indication.
Friend Search Option.
WordPress Online friend search – One click to return only friends online.
Buddypress group search – Return list of member group. By clicking each group will return online member of that group.
Buddypress friend search – Return only buddypress friend online.
Auto load users thumbnail image.
Full width chat window in mobile device (optionally enable/disable from option panel).
Unlimited color skin.
Unlimited background color, image, pattern.
Transparent background with transparent tool tip.
Auto border color generator.
Chat window minimization option.
Chat reload speed control.
Database chat history cleanup by periodic cron job (optionally enable/disable from option panel).
bpchat Options import/export feature.
Multisite feature supported.
Complete responsive design.
Ajax Technology.
Limitations
The Plugin works with WordPress powered websites only.
All users must logged in to chat each other.
jQuery 1.7 or newer is required. WordPress 3.4+ already uses jQuery 1.8.3 by default if your theme not deregister it and loads old one.
Before making a purchase, please read the Terms and Conditions on this page: https://wpnull.org/en/terms/

All digital products are purchased without the possibility of free updates. Download links will be available for 24 hours after the purchase.

If you have any questions, please first read the FAQ on this page: https://wpnull.org/en/faq/

If you haven't found the answer to your question, please contact us by e-mail wpnull@yandex.ru, Skype wp.null, online chat or feedback form.

Please note that any digital products presented on the website do not contain malicious code, viruses or advertising. You buy the original files from the developers. We do not sell any products downloaded from other sites.

You can download the product after the purchase by a direct link on this page.